St Mary's Church
For information about the history of St Mary's Church please click here.
Assistant Curate
Revd Judy Rosser
01263 587584
Parochial Church Council
Chairman
Harry Steel
01263 577686
Secretary
Corinne Youngs
01263 577263
Treasurer
Richard Youngs
01263 577263
Church Wardens
Harry Steel
07711 890360
Hazel Martin
07879 414577
Safe Guarding Officer's
Laurence Williams – Tel. 01263 577 292 email: trustlawrence@hotmail.com 
Emma Stimpson – Tel. 01263 577 515 email: emma.stimpson@gmail.com 
Church News
Heydon Walk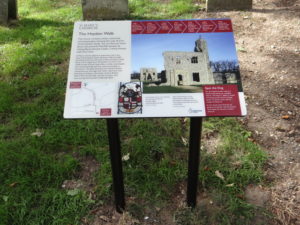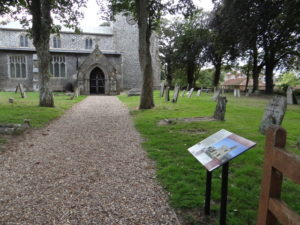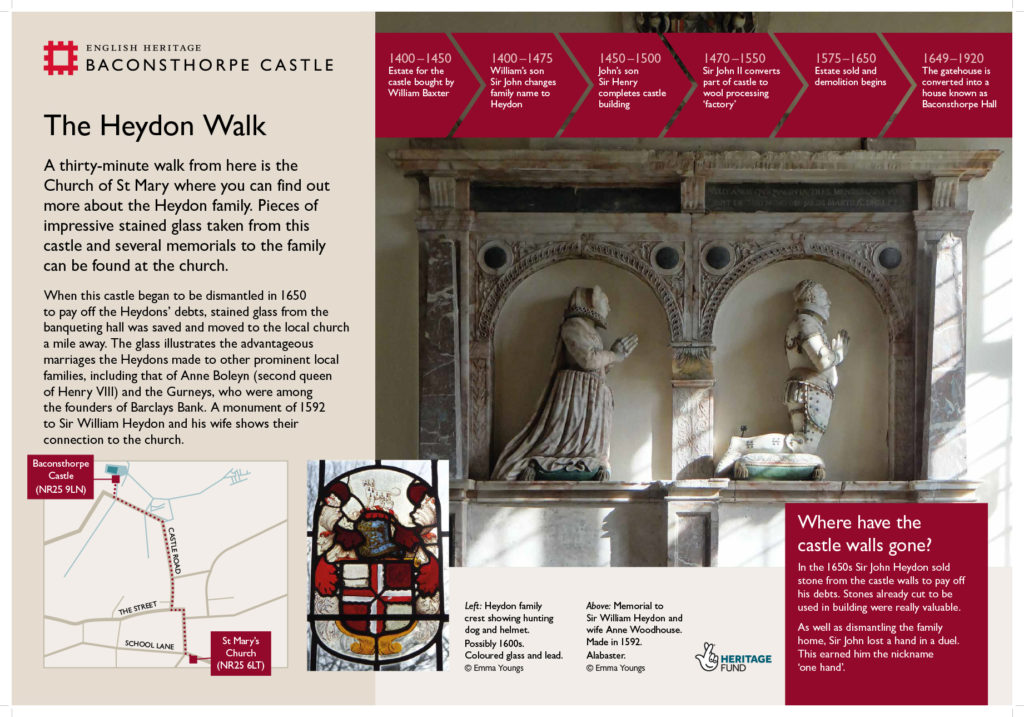 The new Heydon Walk signs by English Heritage have now been installed in the church and at the castle. Do take a look and do the walk!
Church Yard Clean-Up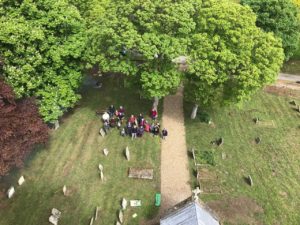 On Saturday 11th May 2019 lots of people from the village came to help clear the church yard and clean the grave stones. There is a longer term project to identify and map all the existing graves in the church yard. For more photographs please visit the Gallery page.
Church Roof Repairs 2018
The roof of the church has been repaired after the two lead thefts in 2018. This has been made possible by a grant awarded to the church by the Heritage Lottery Fund and fund raising by the village community.


During the repairs there have been events to include the community. On Saturday 10th November 2018 over 50 people visited the church. There was a tour of the church identifying the points of interest within the church and then the architect took the visitors up onto the roof of the North Aisle to see the new zinc roof under construction.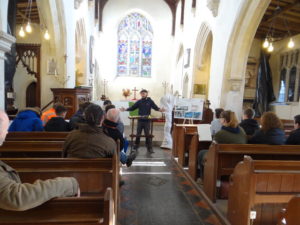 On Monday 12th November 2018 15 students from the College of West Anglia had a building skills workshop. They learnt about lime mortaring and lead roofs from the architect and master craftsmen working on the church roof.
The grant is not only helping to fund the repair of the roof but it is also funding community projects:
The Baconsthorpe Village Website.
A project being run in conjunction with English Heritage to create Heydon's Walk from Baconsthorpe Castle to St Mary's Church.
Norfolk Coastal Partnership have added an extension to their Bodham via Baconsthorpe Castle circular walk to include St Mary's Church.
The church history pamphlet has been updated and reprinted.
There is a geocache somewhere in the church (we can't tell you where, it will spoil the fun!).
There is a Children's Animal Trail inside the church with 17 different animals to find.
Church Fees
Click the link below to download a copy of the Church Fees.