Village Hall
The village hall is located at the west end of the village on the corner of the cross road with the church. As it is so close St Mary's Church, it is an ideal place to have a gathering after a christening, wedding or funeral. The loos can be hired separately for events at the church.
Originally the village school, the Grade II listed building was transferred into village ownership to be managed as a charity in 1985. Please click here for the history page with more information about the history of the village school.
The village hall is a meeting place for the village and offers a venue for social gatherings, family events, live music evenings, quiz and bingo nights, summer fetes and Christmas celebrations.
The hall and grounds are managed by a committee of trustees who are also responsible for fundraising and events. Please see the News section on the home page for details of regular and special events.
200 Club
There is a 200 Club to help support the village hall which is drawn monthly. There are currently numbers available. A number costs £6.00 a year, please contact Daphne Allard 01263 577345.
June  200 Club Winners
The 200 Club is suspended for the time being. No money is being collected and all advanced payments will be carried forward when things return to normal.
Hall Hire & Facilities
The hall can be booked for £8.00 per hour. If you would like further information or to make a booking please call Evelyn Massingham on 01263 577315
Main Hall
• Seats up to 100 or can be open for parties and dancing
• PA system and a hearing loop
• Stage is available if necessary
• Black-out blinds
• Hatch into the kitchen
• Disabled access
• Central Heating
• Mens, ladies with baby changing and disabled toilets
Kitchen
• Six ring hob
• Two ovens and grill
• Dishwasher
• Fridge freezer
• Crockery and cutlery for 100 settings
• Cooking utensils / saucepans / roasting tins etc
Bar Room
• Bar stocked with a variety of glasses
• Ice machine
• 6 bar tables and 5 bar stools
• Dart board
Garden
• Outside lawn area
• Six picnic tables
• BBQ
There is car parking for 20 cars across the road with easy access.
Full details on hall hire are set out in the Hire Agreement which can be downloaded by clicking this link
It is also possible to hire chairs, a range of tables and crockery for outside events. Please contact Piers Warner to discuss your requirements.
Management Committee
Chair Piers Warner pierswarner@outlook.com
Treasurer Tom Benton-Worboys
Secretary Lee Rix
Hire Secretary Evelyn Massingham 01263 577315
Daphne Allard
Karen Benton-Worboys
Kevin Delaney
Sarah Wilson
Piers would be very pleased to hear from anyone who would like to help at events or consider joining the Management Committee.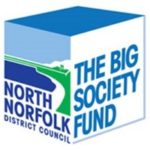 Facilities at the village hall have recently been improved, with support from a grant from North Norfolk District Council, to include new flooring in the kitchen and bar area, black-out blinds to facilitate presentations and film shows, and a fire alarm system.